UPDATED!
Turns out it was an coincidence that the problem was resolved by removing the update. "Better safe than sorry"? – I wanted to warn people before they installed the update as it seemed to break ConfigMgr.
We suspect that the problem actually was because of someone (who is now seeking opportunities outside the company – nah just kidding!.. or am I?) scripted a total of 1453 app deployments.
Which made sure the server had some work to do..
The reason we though that removing the update resolved the issue was because it actually processed the new requests before filling the queue with deployments. After a while it was to busy again and the problem came back.
The policytargeteval inbox was filling up – we had over 3600 files in the inbox for hours.
We installed the ConfigMgr update KB4036267 hoping it would kick of something
We sampled the amount of files in the inbox and suddenly something happened that flushed the inbox.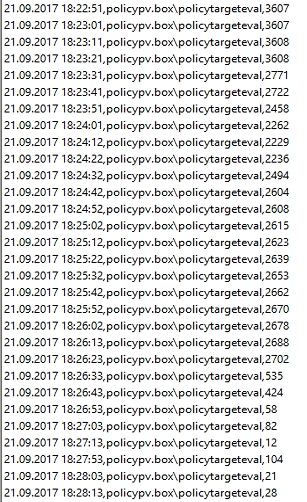 It has now been stable jumping between 0 and 200 as usual.
---
After installing KB4038792 all clients trying to PXE boot failed downloading policies.

cannot get the 'Signature' node
Failed to request policy assignments (Code 0x80004005)
Exiting with return code 0x80004005
The problem was resolved by removing the update and rebooting the site server.